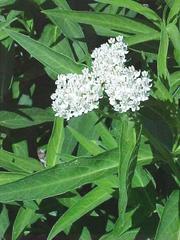 Asclepias incarnata – 'Ice Ballet' Milkweed
'Ice Ballet' is an elegant, long-blooming, bright white cultivar of native Asclepias incarnata (Swamp Milkweed) and features a compact habit and dark green foliage. Swamp milkweed occurs throughout most of the United States. It is a tall plant found in moist habitats such as wet meadows, floodplains, riverbanks, pond shores, stream banks, wet woods, swamps, and marshes, although it will also grow in drier areas such as prairies, fields, and roadsides. Asclepias incarnata needs full sun or partial shade to flourish. Flowers are very attractive to butterflies and bees as a nectar source. Swamp milkweed is also an important food source for the larval stage of Monarch butterflies. The plants are deer resistant and heat tolerant.
Available – May 2017
$

10.00
Add to cart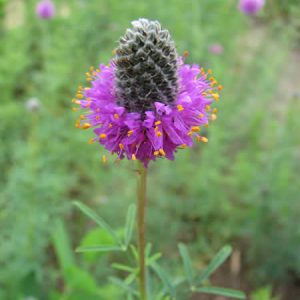 Dalea purpurea – Purple Prairie Clover
Host Plant – Sulphurs
Tiny rose-purple flowers in cylindrical, head-like masses at ends of upright wiry stems.
This is one of the most widespread of the perennial Prairie Clovers, identifiable by their cone-like flower heads. An excellent range species, with high protein content, Purple Prairie Clover decreases in abundance with overgrazing. A midwestern white-flowering species, White Prairie Clover has elongated flower heads and is only 2 (60 cm) tall. A white-flowering southeastern coastal plain species, D. carnea var. albida, has conspicuous green bracts within the heads.
$

6.50
Read more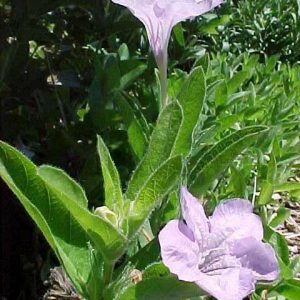 Ruellia humilis – Wild Petunia
Host plant – Common Buckeye Butterfly
Wild petunia occurs in dryish soils in open woods, glades, prairies and fields throughout the State except for the far southeastern lowlands. Typically grows to 2′ tall. Features tubular, bell-shaped, petunia-like flowers (to 3″ long), each with five shallow rounded lobes. May to October bloom period. Lavender to lilac flowers appear singly or in clusters in the upper leaf axils. Oblong to lanceolate, olive green leaves to 4″ long. Leaves and stems are hairy. This plant in on threatened list in the state of Michigan.
Available for shipping mid May
$

10.00
Add to cart