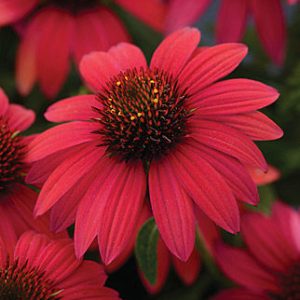 Echinacea Sombrero – Baja Burgundy Coneflower
Echinacea Sombrero 'Baja Burgundy' is a splendid coneflower selection with deep burgundy petals surrounding a large brown cone. These vibrant daisy like flowers bloom freely from mid-summer to frost and are easy to grow plants tolerant of drought, heat, humidity and poor soil.
Attractive to butterflies, Echinacea Sombrero 'Salsa Red' Coneflower is also a magnet for important pollinators and beneficial insects. The flower heads provide visual winter interest and are an important food source for birds.
The Sombrero series is a new introduction bred to produce well-branched, sturdy and compact plants featuring a high bud count.
Grown in 4.5" square pots.
$

12.00
Read more