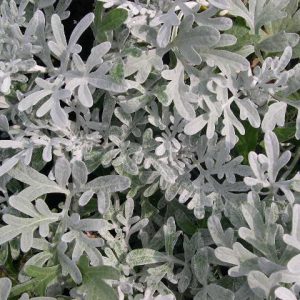 Artemisia stelleriana – Silver Brocade
Host Plant – American Lady
Wide 1″ felty silver foliage with a hint of green coloring. Artemisia Silver Brocade has uniquely shaped leaves of deeply divided, rounded lobes that provide interesting texture and design to your border. Softens and blends color transitions in the border. Outstanding next to white or blue flowers.
Features to Note:
Deer Resistant
OK in containers – see FAQ for overwintering
Scented Foliage
Hot Dry site tolerant
For a sunny spot
General Information:
Artemisia are prized for their aromatic silver leaves, excellent texture and vigorous growth. This perennial does not flower conspicuously but are used for their contrasting foliage. Also excellent in flower arrangements.
Plant Care:Fast growing. Can be cut back in spring to control size. Can be sheared during the summer if needed – new foliage will flush out quickly.
Available May – Mid May
$

6.50
Add to cart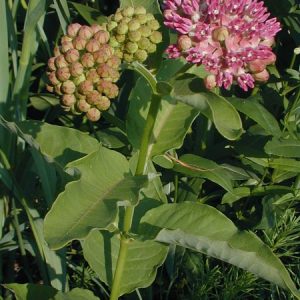 Asclepias purpurascens – Purple Milkweed
DISTRIBUTION
USA:  AR,  CT,  DC,  DE,  GA,  IA,  IL,  IN,  KS,  KY,  LA,  MA,  MD,  MI,  MN,  MO,  MS,  NC,  NE,  NH,  NJ,  NY,  OH,  OK,  PA,  RI,  SD,  TN,  TX,  VA,  WI,  WV
Asclepias purpurascens – Purple Milkweed is a Michigan native milkweed and is native to most of the eastern United States though it is uncommon to rare in cultivated gardens. Similar to Ascelpeias syriaca (Common Milkweed) it is an excellent garden choice due to its non-invasive nature. It has a long bloom season and the fragrant, intense rosy pink flowers attract numerous insects and butterflies. Purple Milkweed is very tolerant of a wide variety of soils and light levels making it easy to grow.  It will tolerate shade, but blooms better in the sun. It commonly occurs in dry to moist open woods, dry ridge tops, thickets, glades, prairie openings, stream banks and wet meadows.
All of our plants are grown without the use of harmful pesticides and are safe for developing larvae.
Grown in 4.5″ square pot.
Available mid-late June 2017
$

10.00
Read more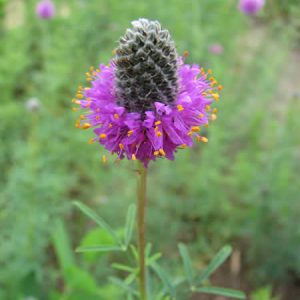 Dalea purpurea – Purple Prairie Clover
Host Plant – Sulphurs
Tiny rose-purple flowers in cylindrical, head-like masses at ends of upright wiry stems.
This is one of the most widespread of the perennial Prairie Clovers, identifiable by their cone-like flower heads. An excellent range species, with high protein content, Purple Prairie Clover decreases in abundance with overgrazing. A midwestern white-flowering species, White Prairie Clover has elongated flower heads and is only 2 (60 cm) tall. A white-flowering southeastern coastal plain species, D. carnea var. albida, has conspicuous green bracts within the heads.
$

6.50
Add to cart