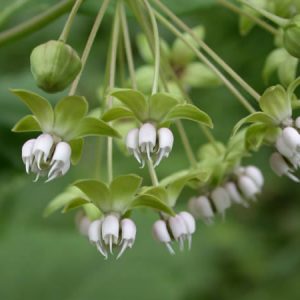 Asclepias exaltata – Poke Milkweed
Poke Milkweed is native to Michigan and can also be found throughout the eastern portion of the United States and Canada. It is most often found at the edges of forests and upland woods and is one of the few milkweeds that prosper in shaded conditions. Tall and elegant with drooping flowers that are white with pink accents and extremely fragrant, this milkweed is a popular nectar source in addition to being a host plant for the Monarch butterfly. This is a non-aggressive milkweed and once established, plants are known to survive for decades.
Available –  May 2017
$

10.00
Read more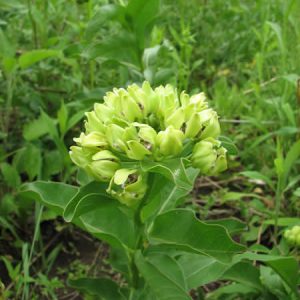 Asclepias viridis – Spider Milkweed
Spider Milkweed is also commonly known as Green Antelopehorn Milkweed. In Texas, it is quite common and is considered an important food source for the Monarchs as they start their spring migration northward. Spider Milkweed has a native range of Texas north to Nebraska and eastward as far as West Virginia and South Carolina. It can be found along roadsides, ditches, prairies, open areas, and other areas with little vegetative competition. This species tends to be short (12 inches) with multiple stems emerging from the root crown of mature plants. Taller, more erect plants, usually with one or a few stems, can be found in moist prairies. Spider Milkweed features rose-white flowers surrounded by green that form in showy umbellated clusters, often one per plant.
Available – May 2017
$

10.00
Read more