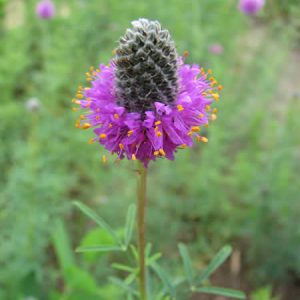 Dalea purpurea – Purple Prairie Clover
Host Plant – Sulphurs
Tiny rose-purple flowers in cylindrical, head-like masses at ends of upright wiry stems.
This is one of the most widespread of the perennial Prairie Clovers, identifiable by their cone-like flower heads. An excellent range species, with high protein content, Purple Prairie Clover decreases in abundance with overgrazing. A midwestern white-flowering species, White Prairie Clover has elongated flower heads and is only 2 (60 cm) tall. A white-flowering southeastern coastal plain species, D. carnea var. albida, has conspicuous green bracts within the heads.
$

6.50
Read more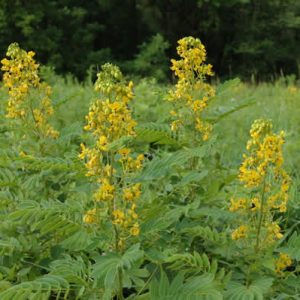 Senna hebecarpa – Wild Senna
Host Plant – Sulphur, Clouded Sulphur, Orange Sulphur
Wild Senna is a versatile plant that we think deserves more recognition as a great choice for garden or restoration projects. Its lovely, bright yellow flowers bloom July-August, attracting many bees and butterflies. Autumn brings beautiful leaf colors and the formation of long black pods with seeds favored by larger birds like wild turkeys. A horizontal root system provides strength against winds, allowing the plant's stately (4-6′) beauty to be appreciated even after the storm. Some gardeners use this sun-loving plant to form a hedge.
It is virtually indistinguishable from its relative, Maryland Senna (Senna marilandica) until the two species have ripe seeds. The Wild Senna will readily open its pod and the seeds will fall out, whereas the Maryland Senna seed pods will stay tightly closed.  Other than this, it is very hard to tell the two species apart.
$

10.00
Read more