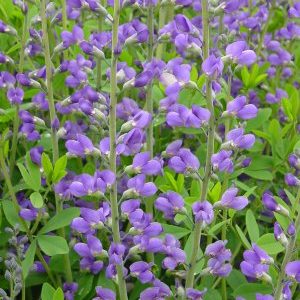 Baptisia australis – Blue False Indigo
Wild Indigo Duskywing / Eastern Tailed-Blue / Orange Sulphur / Clouded Sulphur / Frosted Elfin / Hoary Edge
Blue spikes of pea-shaped flowers resemble the tall racemes of lupines in May and early June. A slow to mature, but very rewarding native garden perennial. Found in open woods, river banks and sandy floodplains, New York to Nebraska to Georgia.
$

10.00
Read more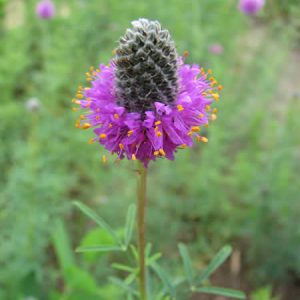 Dalea purpurea – Purple Prairie Clover
Host Plant – Sulphurs
Tiny rose-purple flowers in cylindrical, head-like masses at ends of upright wiry stems.
This is one of the most widespread of the perennial Prairie Clovers, identifiable by their cone-like flower heads. An excellent range species, with high protein content, Purple Prairie Clover decreases in abundance with overgrazing. A midwestern white-flowering species, White Prairie Clover has elongated flower heads and is only 2 (60 cm) tall. A white-flowering southeastern coastal plain species, D. carnea var. albida, has conspicuous green bracts within the heads.
$

6.50
Read more