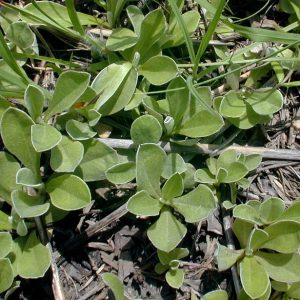 Antennaria neglecta – Field Pussy Toes
Availavle for shipping Mid May.
Description: This perennial herbaceous plant is up to 1′ tall, but more commonly ½' or less. It consists of a rosette of basal leaves, which sometimes produces an inflorescence on a short stalk during the spring. The basal leaves are up to 2″ long and ½" across; they are oblanceolate, with smooth margins. There is a single prominent vein on the upper surface of each basal leaf, while the lower surface is white and hairy. There are small alternate leaves along the pubescent flowering stalk; they are narrowly lanceolate or linear.
The late spring flowers look like tiny cat's feet, thus the name. A member of the Aster family, Prairie Pussytoes are found across much of the Midwest and Northeast.  USDA Hardiness zones: 3-7.
Pussytoes usually are grown for their velvety leaves rather than the white to pale pink flower. Flowers will reach up to about a foot in height but the leaves grow at ground level.  Spreading by rhizomes, Pussytoes provide a good ground cover for dry areas such as rock gardens.  Parts of the plant are poisonous so deer and rabbits and other small animals won't touch them.
A. neglecta and A. plantaginifolia can be difficult to differentiate between with their primary differences existing in their leaves. A. neglecta has narrower leaves with 1-2 prominent veins compared to the 3-5 prominent veins seen in the broader leaves of A. plantaginifolia.
$

10.00
Read more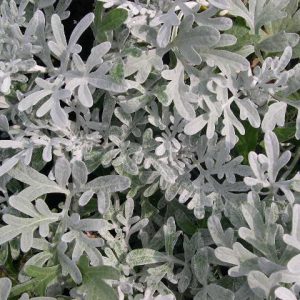 Artemisia stelleriana – Silver Brocade
Host Plant – American Lady
Wide 1″ felty silver foliage with a hint of green coloring. Artemisia Silver Brocade has uniquely shaped leaves of deeply divided, rounded lobes that provide interesting texture and design to your border. Softens and blends color transitions in the border. Outstanding next to white or blue flowers.
Features to Note:
Deer Resistant
OK in containers – see FAQ for overwintering
Scented Foliage
Hot Dry site tolerant
For a sunny spot
General Information:
Artemisia are prized for their aromatic silver leaves, excellent texture and vigorous growth. This perennial does not flower conspicuously but are used for their contrasting foliage. Also excellent in flower arrangements.
Plant Care:Fast growing. Can be cut back in spring to control size. Can be sheared during the summer if needed – new foliage will flush out quickly.
Available May – Mid May
$

10.00
Read more