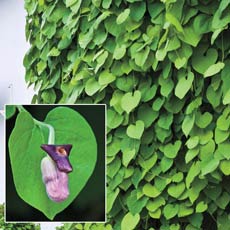 Aristolochia macrophylla – Dutchman's Pipe
Host Plant – Pipevine Swallowtail
Culture
Easily grown in average, medium, well-drained soil in full sun to part shade. Prefers rich, moist soil. Intolerant of dry soils. Cut back in late winter to control growth. Grows well from seed.
Noteworthy Characteristics
This deciduous, woody, climbing vine is an eastern American native which typically occurs in the wild in rich, moist woods and along streams. Can rapidly grow to 20-30′. An old-fashioned favorite that is grown for its large, heart-shaped, densely overlapping leaves (6-12″ long) which can quickly cover an arbor or trellis with attractive, glossy, deep green foliage. Commonly called Dutchman's pipe because the unusual, 2″ long, yellowish-green flowers (each flaring at the calyx mouth to form 3 brownish-purple lobes) superficially resemble Dutch smoking pipes. Although the flowers make interesting conversation pieces, they are usually hidden by the dense foliage and are somewhat inconspicuous.
$

15.00
Read more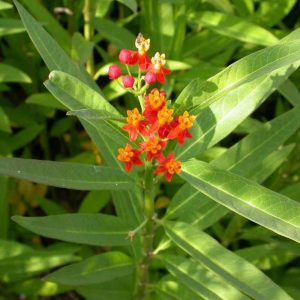 Asclepias curassavica – Tropical Milkweed
Tropical Milkweed, also known as Blood flower, is a tender evergreen perennial in the dogbane and milkweed family. It is native to South America, but has naturalized worldwide in many tropical and subtropical areas. It has a much longer flowering period than the perennial milkweeds that are winter hardy in Michigan. Showy red-orange flowers bloom late spring through late autumn except in USDA Zones 9-11 where it is winter hardy. Grows best in light, rich, evenly moist, well-drained soil in full sun. Will tolerate light shade and some soil dryness.  Hummingbirds, butterflies and bees are attracted to the flowers. Monarch butterflies lay eggs on this plant and the resulting larvae (caterpillars) use the plant leaves as a food source. Flowers are followed by long, narrow seed pods (3-4" long) which split open when ripe releasing silky tailed seeds for dispersal by wind. Stems and leaves exude a milky sap when cut or bruised. Plants can be poisonous to livestock. Consider wearing gloves when working with these plants because the milky sap is poisonous if ingested and can be toxic to human skin.
$

6.50
Read more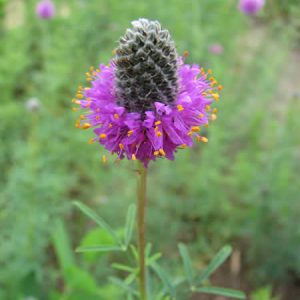 Dalea purpurea – Purple Prairie Clover
Host Plant – Sulphurs
Tiny rose-purple flowers in cylindrical, head-like masses at ends of upright wiry stems.
This is one of the most widespread of the perennial Prairie Clovers, identifiable by their cone-like flower heads. An excellent range species, with high protein content, Purple Prairie Clover decreases in abundance with overgrazing. A midwestern white-flowering species, White Prairie Clover has elongated flower heads and is only 2 (60 cm) tall. A white-flowering southeastern coastal plain species, D. carnea var. albida, has conspicuous green bracts within the heads.
$

6.50
Add to cart