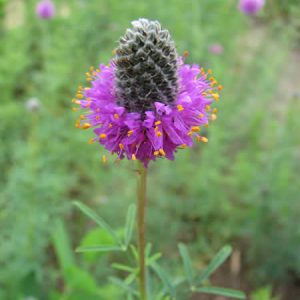 Dalea purpurea – Purple Prairie Clover
Host Plant – Sulphurs
Tiny rose-purple flowers in cylindrical, head-like masses at ends of upright wiry stems.
This is one of the most widespread of the perennial Prairie Clovers, identifiable by their cone-like flower heads. An excellent range species, with high protein content, Purple Prairie Clover decreases in abundance with overgrazing. A midwestern white-flowering species, White Prairie Clover has elongated flower heads and is only 2 (60 cm) tall. A white-flowering southeastern coastal plain species, D. carnea var. albida, has conspicuous green bracts within the heads.
$

6.50
Read more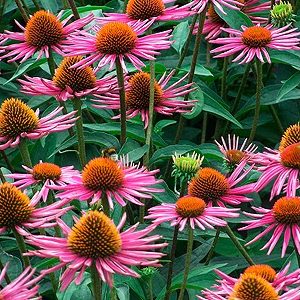 Echinacea – Pica Bella
Hope you're ready–'Pica Bella' is a prolific bloomer! Flowers sport thin, spiky pink petals that look like glowing rays emanating from the central orange-bronze cone. This compact Echinacea is perfect for a small area.
$

12.00
Read more