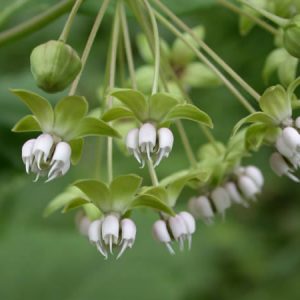 Asclepias exaltata – Poke Milkweed
Poke Milkweed is native to Michigan and can also be found throughout the eastern portion of the United States and Canada. It is most often found at the edges of forests and upland woods and is one of the few milkweeds that prosper in shaded conditions. Tall and elegant with drooping flowers that are white with pink accents and extremely fragrant, this milkweed is a popular nectar source in addition to being a host plant for the Monarch butterfly. This is a non-aggressive milkweed and once established, plants are known to survive for decades.
Available –  May 2017
$

10.00
Read more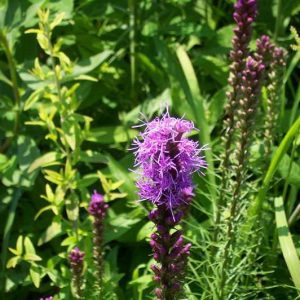 Liatris spicata – Dense Blazingstar
Easily grown in average, medium, well-drained soils in full sun. Somewhat tolerant of poor soils, but prefers moist, fertile ones and generally performs better in moist soils than most other species of Liatris. Intolerant of wet soils in winter. Tolerant of summer heat and humidity. May be grown from seed, but is slow to establish.
Noteworthy Characteristics
Blazing star (also commonly called dense blazing star or marsh blazing star) is a tall, upright, clump-forming perennial which is native to moist low grounds, meadows and marsh margins. In Missouri, it has only been found in Oregon County on the Arkansas border (Steyermark). It typically grows 2-4′ tall in cultivation, but can reach a height of 6′ in some parts of its native habitat. Features terminal spikes (6-12″ long) of sessile, rounded, fluffy, deep purple flower heads (each to 3/4″ across) appearing atop rigid, erect, leafy flower stalks. One or more stalks arise from a basal tuft of narrow, grass-like, medium green leaves (to 12″ long). Stem leaves gradually decrease in size toward the top. Blooms in summer. Liatris belongs to the aster family, with each flower head having only fluffy disk flowers (resembling "blazing stars") and no ray flowers. The feathery flower heads of liatris give rise to another common name of gayfeather. See also L. spicata'Kobold' which is a popular compact cultivar that is less likely to need staking than the species.
Available May – Mid May 2017
$

10.00
Read more