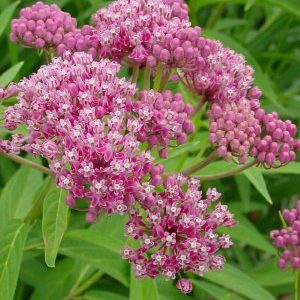 Asclepias incarnata – Swamp Milkweed
Swamp Milkweed occurs throughout most of the United States. It is a tall plant found in moist habitats such as wet meadows, floodplains, riverbanks, pond shores, stream banks, wet woods, swamps, and marshes, although it will also grow in drier areas such as prairies, fields, and roadsides. Swamp milkweed needs full sun or partial shade to flourish. Flowers are fragrant and very attractive to hummingbirds, butterflies and bees as a nectar source. Swamp milkweed is also an important food source for the larval stage of Monarch butterflies. The plants are deer resistant and heat tolerant. Also known as Rose Milkweed, Red Milkweed, and Marsh Milkweed.
View products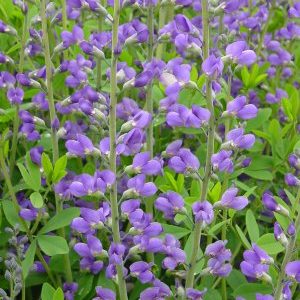 Baptisia australis – Blue False Indigo
Wild Indigo Duskywing / Eastern Tailed-Blue / Orange Sulphur / Clouded Sulphur / Frosted Elfin / Hoary Edge
Blue spikes of pea-shaped flowers resemble the tall racemes of lupines in May and early June. A slow to mature, but very rewarding native garden perennial. Found in open woods, river banks and sandy floodplains, New York to Nebraska to Georgia.
$

6.50
Add to cart