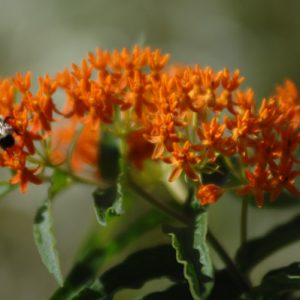 Asclepias tuberosa – Butterfly Weed Milkweed
The Perennial Plant Association is proud to announce Asclepias tuberosa as its 2017 Perennial Plant of the Year™.
Asclepias tuberosa-Butterfly Weed is one of the most well known wildflowers with its clusters of orange flowers. Native to Michigan and widely distributed throughout the United States, Butterfly Weed is a vigorous milkweed variety that produces clusters of flowers that bloom from early summer until frost. It is a nectar favorite for hummingbirds, bees, and butterflies as well as host plant for the Monarch butterfly. Like most Asclepias, this plant is happiest in well-drained soils. It is a great milkweed for a sunny location in a dry area. Mature plants in ideal locations can make as many as 20 stems at an average height of 2'. The vivid orange color, low mounded profile, and ability to attract and sustain butterflies make this plant a well-known favorite for all types of gardens. Butterfly Weed makes an excellent cut flower.
$

10.00
Read more