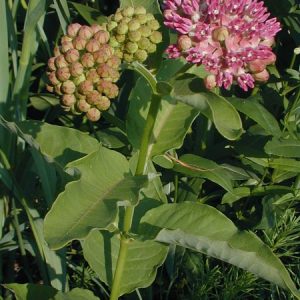 Asclepias purpurascens – Purple Milkweed
DISTRIBUTION
USA:  AR,  CT,  DC,  DE,  GA,  IA,  IL,  IN,  KS,  KY,  LA,  MA,  MD,  MI,  MN,  MO,  MS,  NC,  NE,  NH,  NJ,  NY,  OH,  OK,  PA,  RI,  SD,  TN,  TX,  VA,  WI,  WV
Asclepias purpurascens – Purple Milkweed is a Michigan native milkweed and is native to most of the eastern United States though it is uncommon to rare in cultivated gardens. Similar to Ascelpeias syriaca (Common Milkweed) it is an excellent garden choice due to its non-invasive nature. It has a long bloom season and the fragrant, intense rosy pink flowers attract numerous insects and butterflies. Purple Milkweed is very tolerant of a wide variety of soils and light levels making it easy to grow.  It will tolerate shade, but blooms better in the sun. It commonly occurs in dry to moist open woods, dry ridge tops, thickets, glades, prairie openings, stream banks and wet meadows.
All of our plants are grown without the use of harmful pesticides and are safe for developing larvae.
Grown in 4.5″ square pot.
Available mid-late June 2017
$

10.00
Read more