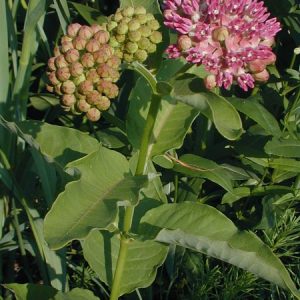 Asclepias purpurascens – Purple Milkweed
DISTRIBUTION
USA:  AR,  CT,  DC,  DE,  GA,  IA,  IL,  IN,  KS,  KY,  LA,  MA,  MD,  MI,  MN,  MO,  MS,  NC,  NE,  NH,  NJ,  NY,  OH,  OK,  PA,  RI,  SD,  TN,  TX,  VA,  WI,  WV
Asclepias purpurascens – Purple Milkweed is a Michigan native milkweed and is native to most of the eastern United States though it is uncommon to rare in cultivated gardens. Similar to Ascelpeias syriaca (Common Milkweed) it is an excellent garden choice due to its non-invasive nature. It has a long bloom season and the fragrant, intense rosy pink flowers attract numerous insects and butterflies. Purple Milkweed is very tolerant of a wide variety of soils and light levels making it easy to grow.  It will tolerate shade, but blooms better in the sun. It commonly occurs in dry to moist open woods, dry ridge tops, thickets, glades, prairie openings, stream banks and wet meadows.
All of our plants are grown without the use of harmful pesticides and are safe for developing larvae.
Grown in 4.5″ square pot.
Available mid-late June 2017
$

10.00
Read more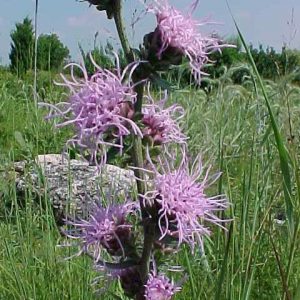 Liatris aspera – Rough Blazing Star
Culture
Easily grown in average, dry to medium, well-drained soils in full sun. Tolerant of poor soils, drought, summer heat and humidity. Intolerant of wet soils in winter.
Noteworthy Characteristics
Liatris aspera, commonly called rough blazing star, is an upright, clump-forming, Missouri native perennial which typically grows 2-3′ tall (less frequently to 5′) and which commonly occurs in dryish soils on prairies, open woods, glades, meadows and along roads and railroad tracks. Features rounded, fluffy, deep rose-purple flower heads (each 3/4″ across) which are crowded into long, terminal flower spikes atop erect, rigid, leafy flower stalks. Stalks arise from basal tufts of rough, very narrow, lance-shaped leaves (to 12″ long). Flowers open somewhat at the same time, which makes this species a particularly good fresh cut flower for floral arrangements. Blooms later (late summer to fall) than most other Liatris species. Liatris belongs to the aster family, with each flower head having only fluffy disk flowers (resembling "blazing stars") and no rays. This species is distinguished from other Liatris species by its rough appearance and rounded, outflaring involucral bracts.
Genus name of unknown origin.
Specific epithet means rough.
Problems
No serious insect or disease problems. Taller spires may need staking.
Garden Uses
Perennial borders, cutting gardens, native plant gardens or naturalized areas.
$

6.50
Read more