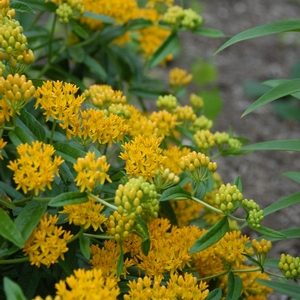 Asclepias tuberosa – Hello Yellow Milkweed
'Hello Yellow' is a cheerful cultivar of Asclepias tuberosa (Butterfly Weed) featuring bright yellow flower clusters. Native to Michigan and widely distributed throughout the United States, Butterfly Weed is a vigorous milkweed variety that produces clusters of flowers that bloom from early summer until frost. In addition to being a nectar favorite for butterflies, hummingbirds, bees, and other beneficial insects are drawn to this long blooming Milkweed. Like most Asclepias, this plant is happiest in well-drained soils, but it will put up with a lot of hardship, including poor, dry soil and long periods of drought. It needs full sun and plenty of it to reach its peak performance.
Available – May 2017
Grown in 4.5″ square pot.
All of our plants are grown without the use of harmful pesticides and are safe for developing larvae.
$

8.00
Read more