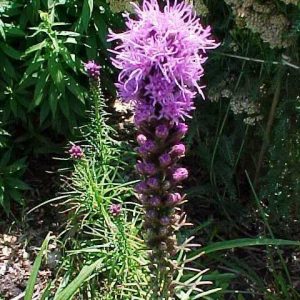 Liatris spicata – 'Kobold' Dwarf Gayfeather
Culture
Easily grown in average, medium, well-drained soils in full sun. Prefers moist, fertile soils. Tolerant of poor soils, drought, summer heat and humidity. Intolerant of wet soils in winter.
Noteworthy Characteristics
This blazing star cultivar is a small, compact, upright, clump-forming perennial which typically grows 2-2.5′ tall. Features terminal spikes (6-15″ long) of sessile, rounded, fluffy, deep purple flower heads (each to 3/4″ across) appearing atop rigid, erect, leafy flower stalks. Multiple stalks arise from basal tufts of narrow leaves (to 10″). Flowers generally open top to bottom on the spikes. Blooms in summer. Liatris belongs to the aster family, with each flower head having only fluffy disk flowers (resembling "blazing stars") and no rays.
$

6.50
Read more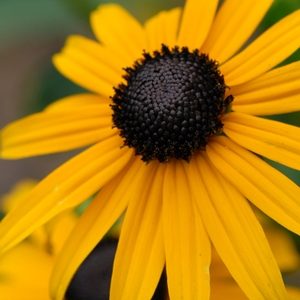 Rudbeckia fulgida – 'Goldsturm' Black-eyed Susan
A garden classic with bold texture and upright habit. Bright gold petals with a deep brown cone highlight the garden in late summer. Each flower may last up to two weeks! Makes a wonderful and long lasting cut flower. Provides seeds in the winter for birds and nectar for butterflies. Beautiful and versatile, outstanding in mass plantings as well as perennial borders, meadows and prairie gardens.
Rudbeckia fulgida var. sullivantii 'Goldsturm' has been selected by the Perennial Plant Association as the 1999 Perennial Plant of the Year. Acclaimed internationally as one of the most popular perennials for the past fifty years, its bright golden-yellow flowers shine in gardens worldwide. In 1937 Heinrich Hagemann observed a glorious stand of Rudbeckia fulgida var. sullivantii at Gebrueder Schuetz's nursery in the Czech Republic. Recognizing the superiority over other commonly-grown Rudbeckia species, Hagemann convinced his employer Karl Foerster of Potsdam, Germany to propagate his discovery. World War II interfered with the planned debut of the plant and it was not until 1949 that the triumphant success of Rudbeckia fulgida var. sullivantii renamed 'Goldsturm' began. 'Goldsturm' translates to English as "gold storm." Heinrich Hagemann, although retired, maintains an active interest in his company, the world-renowned Hagemann Staudenkulturen. A member of the Asteraceae (Compositae) family, orange coneflower or black-eyed Susan has a native range from New Jersey west to Illinois. 'Goldsturm' orange coneflower is significant in its compact habit and 1-2-inch golden-yellow petals which encircle a nearly black cone of disk flowers. The leaves are coarse, dark green lanceolate to ovate, 3-6 inches long; stem leaves are smaller, almost bract-like. The "gold storm" blankets the tops of 18-30-inch tall plants from mid-July to October. Plant width is 24 inches.
$

5.00
Read more