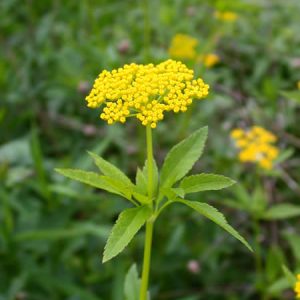 Zizia aurea – Golden Alexanders
Zizia aurea is one of those natives that every garden should have. It is fairly easy to grow and, although short-lived, will self-seed and persist in many sun/soil situations. Zizia is an important plant to a number of short-tongued insects that are able to easily reach the nectar in the small yellow flowers. Black Swallowtail caterpillars will feed on its leaves.
Golden Alexanders have a long bloom time, giving the garden/prairie some well-deserved early color for several weeks in late spring to early summer when many other plants have not yet flowered.  Also called Golden Zizia, Golden Alexanders will tolerate a lot of shade but prefer full sun or light shade.
$

10.00
Read more